LIGHTS UP IN THE NIGHT SKY ???
ATREX EXPERIMENT LIGHTS UP THE NIGHT SKY:
Before sunrise on March 27th, sky watchers up and down the eastern seaboard of the United States witnessed a strange apparition. A quintet of milky-white plumes appeared in the night sky, twisting in the winds at the edge of space. "It was pretty unreal and very exciting to see," says eye-witness Jack Fusco, who sends this picture from Seaside Park in New Jersey: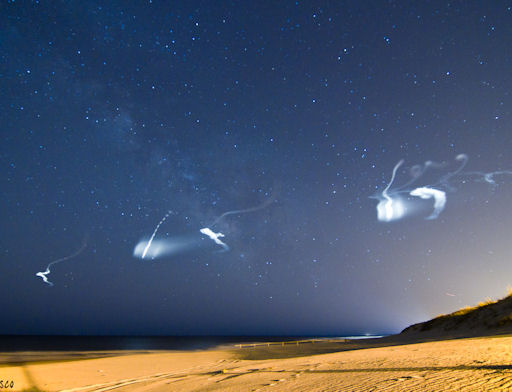 The plumes were chemical tracers (trimethyl aluminum) deposited in the upper reaches of Earth's atmosphere by five rockets launched rapid-fire from NASA's Wallops Flight Facility in Virginia. The goal of the experiment, named ATREX (Anomalous Transport Rocket Experiment), is to study 3D turbulence in the thermosphere.
"We saw the rockets lift off and then slowly release their chemicals, creating trails in the sky," reports Alice B. of Loudoun County, Virginia. "We could also see what I assume were the rocket remnants falling back to Earth."
"Once the chemical tracers from the rockets were released, the view was amazing," adds Bryan Lauber of Frenchtown, NJ. "The tracers were extremely bright and seemed to just fall out of the sky!"
Source
So we go HHHHMMMMMMM????
- an episode in the Project Blue Beam Saga....?
_________________
We all have the choice to exercise Free Will.
Omnia Vincit Veritas
"Ignis natura Renovatur Integram"