Re: Costco Sells MRE's and Shelf Reliant Food
http://www.costco.com/Browse/Product.aspx?prodid=11622359&whse=BC&topnav=&cm_sp=RichRelevance-_-categorypageHorizontalTop-_-PopularProductsInCategory&cm_vc=categorypageHorizontalTop|PopularProductsInCategory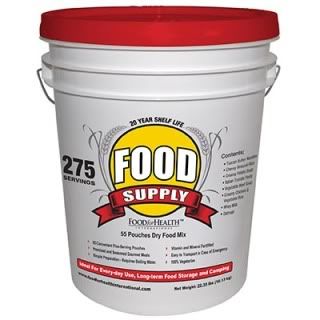 275 Total Servings of
Vegetarian Emergency Food Supply By Food For Health™
31 Cents Per Serving
Up to a 20 Year Shelf Life, Weather Proof Bucket
Item # 566423
Limited Time Offer:
$15 discount is reflected in the price. Valid for orders placed March 26, 2012 through April 15, 2012. While supplies last.
Online price $99.99
Less -$15.00
YOUR COST $84.99
Ready to eat every day of the week! With all-new recipes made from high quality ingredients, all 275 servings burst with flavor and nutrition. Savor the comforting essence of Creamy Potato Soup or the family-pleasing Italian Tomato Pasta for lunch or dinner, or start the day off right with a heart-healthy bowl of oatmeal. These meals are no longer just long-term food supply but tasty enough for everyday use.
Along with the enhanced flavors, Food for Health has also increased the nutritional value as well. Each entrée is high in protein and offers no hydrogenated oils(excludes whey milk), trans fats, or added MSG. Making a healthy meal has never been so easy or affordable. Just add boiling water, and in 25 minutes, a mouth-watering meal is ready to serve; priced under 35 cents, Food For Health's Food Supply Kit easily fits into any budget.
Although recommended for daily use, the 275 serving Food Kit is still the best choice for any outdoor activity and stocking your shelves with a long-term food supply.
Easy to Prepare Nutritional and preparation information
Up to a 20 Year Shelf Life*
Must have water and heat source
275 servings – 55 pouches per kit (5 servings each pouch)
25 Servings of Cheesy Broccoli & Rice
30 Servings of Vegetable Rice
35 Servings of Creamy Potato Soup
25 Servings of Italian Tomato Pasta
25 Servings of Tuscan Butter Pasta
35 Servings of Barley Vegetable Soup
50 Servings of Maple Brown Sugar Oatmeal
50 Servings of Whey Milk**
Sealed in convenient Weather-Proof pail for easy transport
100% Vegetarian – added MSG or Trans Fats
Total Weight 23 lbs.
Our company's name reflects our commitment of providing food that promotes optimal health, increased longevity, and a sustained quality of life.
Note - I paid $59.95 in the store.