Indonesian volcano erupts hours after Japan earthquake
Manado, Indonesia:
One of Indonesia's most active volcanos has erupted
, sending lava and searing gas clouds tumbling down its slopes.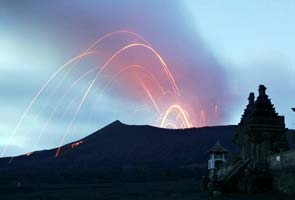 Volcanology official Agus Budianto said Friday that authorities were still trying to evacuate residents living along the slopes of Mount Karangetang.
There were no immediate reports of injuries or serious damage.
The 5,853-foot (1,784-meter) mountain is located on
Siau, part of the Sulawesi island chain
. It last erupted in August, killing four people.
snip
The eruption happened hours after a massive earthquake in Japan that triggered a Pacific-wide tsunami.
Read more at:
http://www.ndtv.com/article/world/indonesian-volcano-erupts-hours-after-japan-earthquake-91063?cp