Dachshund 'Milo' is lion's best friend — and dentist
Milo is an 11-pound dachshund and Bonedigger is a 500-pound lion. But that didn't stop these two from becoming the best of friends.
In the video above that went viral on Friday, Milo appears to be giving his buddy a very thorough teeth cleaning — or some sort of sloppy French kiss. Bonedigger reciprocates the thoughtful gesture, licking the dog in return with a tongue that's roughly the size of Milo's head.
The 5-year-olds go way back. Joe Schreibvogel, an animal expert and face of the Garold Wayne Zoo in Wynnewood, Okla., who goes by the name "Joe Exotic," first introduced his four dachshund puppies to Bonedigger when the lion was just a 4-week-old cub. A metabolic bone disease rendered Bonedigger mildly disabled, and Exotic thinks that might have something to do with the connection the animals formed.
snip
Read more and see video here:
http://www.today.com/pets/dachshund-milo-lions-best-friend-dentist-6C10069538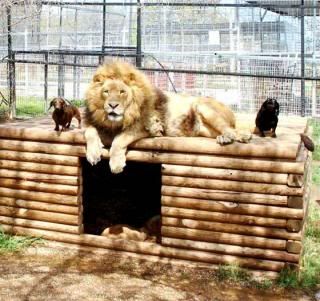 Awww! Teenie weeinies!
Mine clean each other's teeth all the time. Yuck!